AC BALANCE EMULSION
A BHA solution emulsion that controls the skin surface oil and
water balance and forms a thin hydration barrier for refreshing moisture that prevents tightening feeling from the skin.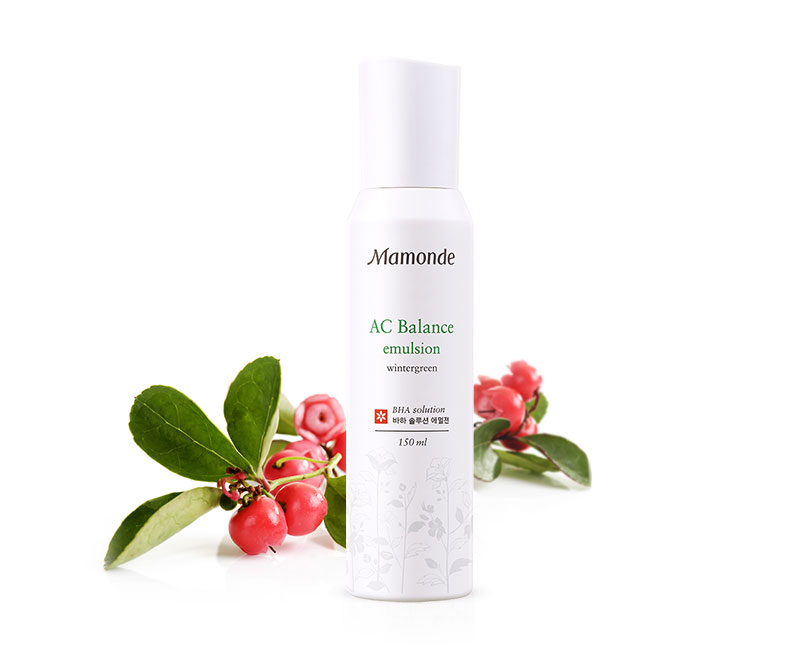 01Naturally derived 100% salicylic acid extracted from winter green gently clears away dead skin cells to clean and smooth the skin.

02Mild exfoliation through Mamonde's BHA clear system technique that extracts and stabilizes naturally derived salicylic acid is suitable for weak, sensitive skin.

03The hydration and sebum absorption powder that are contained in the formula through the smooth skin formula technique provide hydration and absorb sebum instantly upon applications to maintain an appropriate oil and water balance.
Flower Story
Winter Green
Naturally derived salicylic acid extracted from winter green leaves, an ingredient in the AC Balance line

Winter green is known as a unique plant that is abundant in salicylic acid, which treats excess sebum and accumulated dead skin cells. Mamonde's technology was used to stabilize the naturally derived salicylic acid extracted from winter green leaves and contained in the AC Balance line to maximize treatment of dead skin cells and to make it suitable for use on sensitive skin.
BHA
Clear system
Mamonde's technology that solves skin concerns by stabilizing naturally derived salicylic acid extracted from winter green into a formula.
Salt-type effective ingredients destabilize the formula stabilization system. Mamonde extracts BHA components from nature and uses a dual polymer system to stabilize the formula for delivery, which boosts their effects.

We perfected a double system that removes dead skin cells after hydrating them for a gentle way to treat dead skin cells and skin concerns.
Directions
How to Use AC Balance Emulsion
Step1. After using toner, pump the container 3-4 times.
Step2. Gently spread the product over your face from inside to outside in the direction of the skin's texture.