FLOWER SCENTED HAND CREAM
A Perfume Hand Cream Line with the light scent of flowers that moisturizes the hand without the feeling of stickiness.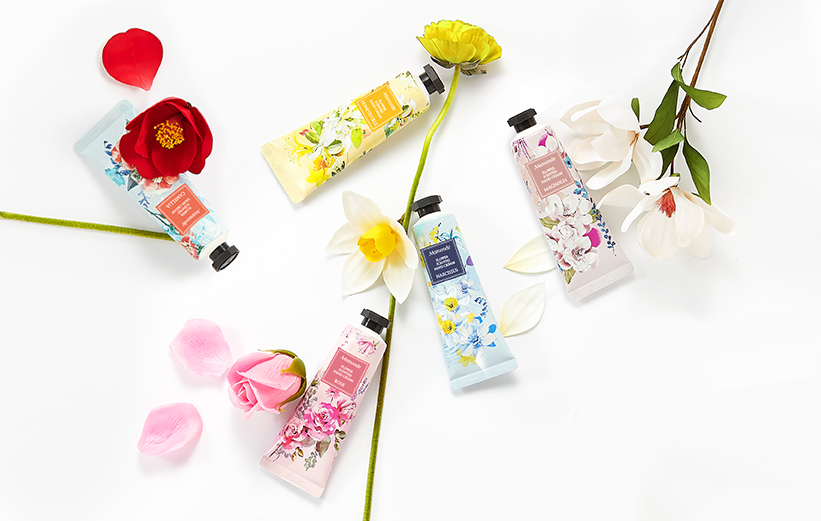 A long lasting pleasant scent
of flowers by Mamonde

Pleasant floral fragrance fills the air and stays on for a long time.

Various cream texture
that fits your condition & mood

Each made with its own flower benefits, 5 different textures provide hand skincare to suit your daily skin concerns and mood.

Beautiful designed packaged
capturing scenery of a garden

The package is designed to capture the beautiful image of a blossoming garden, so you will want to take it out and show it off anywhere, anytime.
Features
Fragrant but subtle scent with a moisturizing but matted texture!
Pick your Mamonde FLOWER SCENTED HAND CREAM
Rose

Rose scented hand cream that smells fresh and lovely. This hand cream has a strong moisturizing power, leaving your hands feeling moisturized and smooth.

Narcissus

Narcissus scented cooling gel hand cream that smells cool and refreshing. This hand cream instantly delivers a hydrating and cooling sensations at the moment of application.

Camellia

[Wrinkle Care]


Camellia scented hand cream with the strong and sweet scent of camellia. This ultra hydrating hand cream gently melts into dry hands and instantly nourishes the skin.

Magnolia

[Brightening]


Magnolia scented hand cream smells noble and elegant. This hand cream brightens up dull hands with a refreshing finish.

Honeysuckle

Honeysuckle scented hand cream smells young, innocent, and fresh. This hand cream provides firmness and moisture to the hands, a feeling as if moisture barriers have been formed around the hands.
Directions
Wash the hands. Then, apply an appropriate amount onto the hand, and let it absorb.