ROSE WATER SOOTHING GEL
A multi-purpose, soothing gel containing 90.81% rose water which
makes skin feel hydrated but at the same time absorbs quickly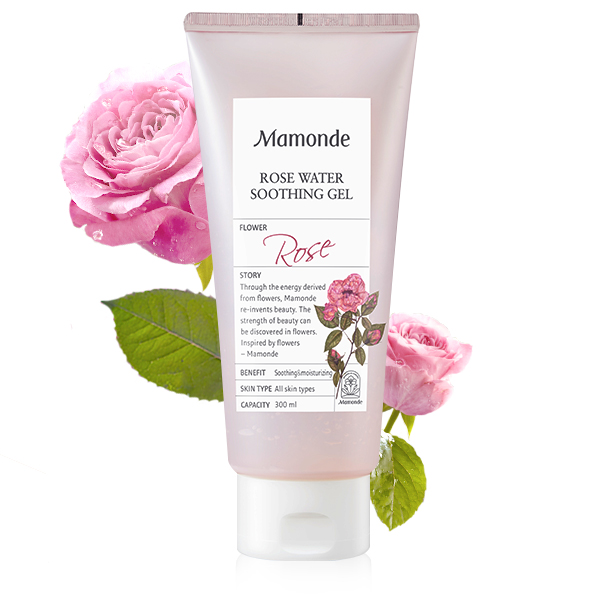 Soothing, moisturizing effects
of damask rose water

We've picked Damask Roses that were grown in morning dew to deliver soothing and moisturizing effects to the skin.

Large quantity, multi-purpose,
soothing gel

Cools and soothes a dehydrated and fatigued face, hair, and body while leaving the scent of roses

Formulated without 7 ingredients

Free of animal ingredients, mineral oil, polyacrylamide, imidazolidinyl urea, triethanoamine, tar pigment, PEG surfactant
Flower Story
Damask Rose

A rose that is adored for its attractive appearance and fragrance. It is a quality rose that is considered to be the best among the hundreds of types of roses.

Damask Roses that were grown in morning dew have been picked to deliver soothing and moisturizing effects to the skin.

Rose Valley

Damask Roses grown in the world-renowned Rose Valley, plentiful in dew, are hand picked by trained experts in the early morning of a particular season for top quality damask roses.
Directions
Apply an appropriate amount to the face, hair, and body as many times as needed. Keep it in the refrigerator for a cooler sensation.
How to use the large quantity, multi-purpose, ROSE WATER SOOTHING GEL
Layer on thickly over a dehydrated and flushed face as a
cold-pack or a leave-on mask!

Apply to hair dried out from hot showers and exposure to UV rays as a
rose-scented hair essence!

During the summer, use as a light,
fragrant, and cool body lotion!
Rose Water
Line Description
ROSE WATER TONER

Rose water toner contains 90.97% rose water, instead of regular, water for more soothing hydration with each swipe

ROSE WATER TONER PAD

Cotton pads soaked in ROSE WATER TONER that can be used as a toner or a sheet mask

ROSE WATER GEL CREAM

Refreshing rose moisture cream effective for soothing skin and concentrated moisturizing

ROSE WATER SOOTHING GEL

A multi-purpose, soothing gel containing 90.81% rose water which makes skin feel hydrated but at the same time absorbs quickly