VITAL VITAMIN CREAM
Vitamin cream for the skin that recharges dull and fatigued skin
Brightening Cosmetic Product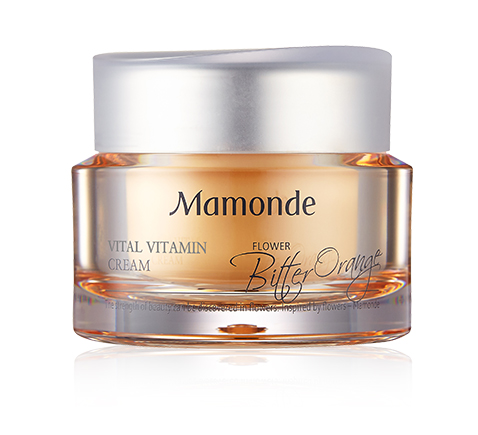 Bitter Orange Flower

Contains the secret to recharging moisture found in bitter orange flowers, which are valuable flowers that are extracted on the day they are picked

7-Vitamin Complex

Vitamin complex composed of Bitter Orange Flower extract + 6 vitamins necessary for healthy skin delivers energy to recharge the skin for clearer, more hydrated skin! *Bitter Orange Flower extract + 6 types of pure vitamin/derivatives

Vitamin Capsule for Antioxidation

Capsules containing antioxidizing vitamins, which come in 3 colors, burst to recharge fatigued skin!

Moist & Recharged Moisture Barrier

Hydrating water essence texture lightly spreads over the skin and absorbs without stickiness. A smooth and recharged skin barrier full of moisture is formed!
Checklist for
Skin Fatigue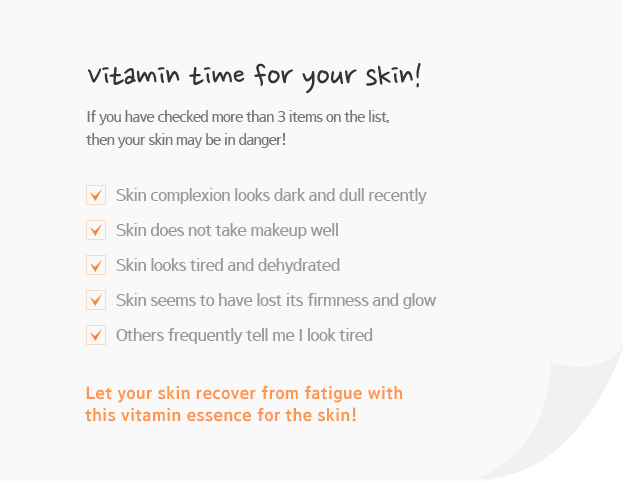 Checklist for
Skin Fatigue
If you have checked more than 3 items on the list, then your skin may be in danger!
Skin complexion looks dark and dull recently
Skin does not take makeup well
Skin looks tired and dehydrated
Skin seems to have lost its firmness and glow
Others frequently tell me I look tired
Let your skin recover from fatique with this vitamin essence for the skin!
Recharging
Vitamin Complex
A recharging 7-vitamin complex for energized looking skin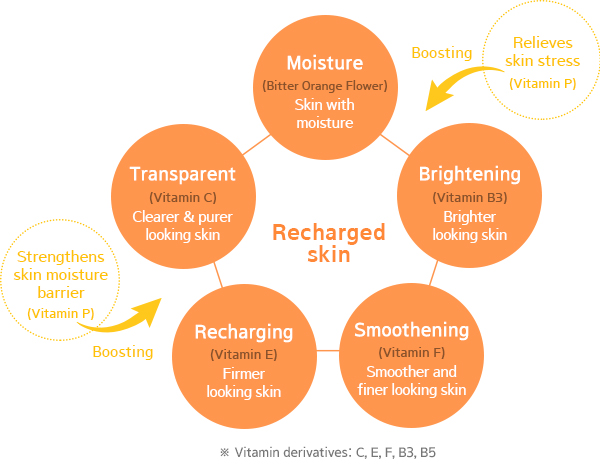 Moisture Bitter Orange Flower

Skin with moisture

Boosting - Vitamin P

Relieve skin stress

Brightening vitamin B3

Brighter looking skin

Smoothening vitamin F

Smoother and finer looking skin

Recharging vitamin E

Boosting - vitaminB5

Strengthens skin moisture barrier
Firmer looking skin

Transparent - Vitamin C

Clearer & purer looking skin
Vitamin derivatives: C, E, F, B3, B5
Formula Features
See with your eyes first!
The hydrating, water-gel like texture goes lightly on the skin and quickly absorbs to create a smooth, hydrating, and recharging moisture barrier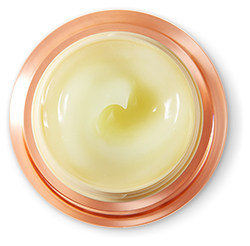 ※ The cream's color may lighten because synthetic pigments were not used, but it is not a factor on the effectiveness of the product
Flower Story
Bitter Orange Flower
Unlike the sweet orange flowers, which are more widely used, bitter orange flowers are more precious because of their shorter blooming period and because they are extracted on the day they are picked to prevent changes in fragrance and color. We have found the secret to clean, recharging moisture within Bitter Orange Flowers that are known to be effective in delivering hydrating moisture to the skin.
Directions
In the morning and evening, take out an appropriate amount and gently apply all over the face following the skin texture of the cream step.
Order to Use
Toner

VITAL
VITAMIN ESSENCE

Emulsion

VITAL
VITAMIN CREAM
Line Description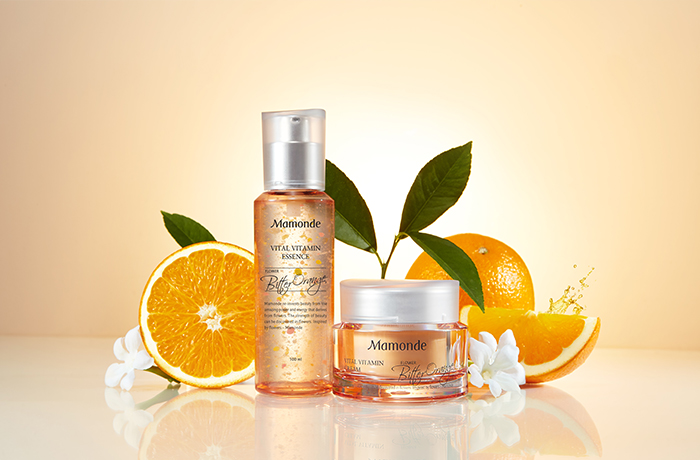 VITAL VITAMIN ESSENCE

Vitamin essence for the skin with vitamin capsules that burst, recharges fatigued skin with clean, energizing moisture

VITAL VITAMIN CREAM

Vitamin cream for the skin that recharges dull and fatigued skin
Directions
Vitamin time for the skin!
Tips on how to recharge fatigued skin with refreshing moisture!
When others frequently tell you, "You look tired"

Soak some sheet masks or cotton pads with Vital Vitamin Essence and leave them on your face for about 10 minutes. More effective if used cold!

When skin looks tired and dehydrated

In the morning or evening after cleansing, mix 1-2 drops of face oil with Vital Vitamin Cream and massage into the face for 1-2 minutes.

If skin texture feels rough even after exfoliation

Soak a cotton pad with Vital Vitamin Essence and swipe across the face from inside to outside and absorb!