Ceramide Skin Softener has been upgraded as
Probiotics Ceramide Skin Softener
with a new design and texture.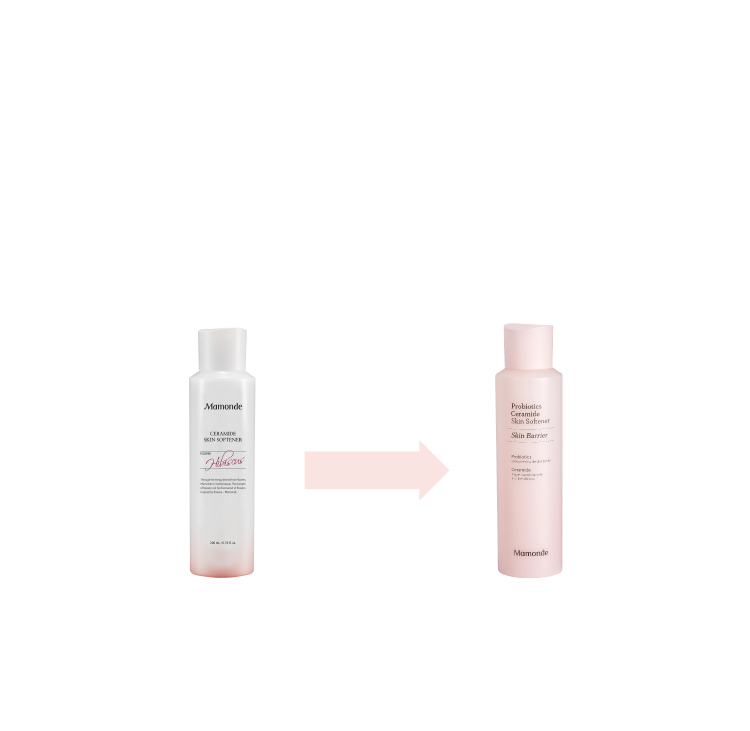 Mask, stress and an unhealthy lifestyle...
Does your skin barrier feel weaker?
If you are worried about your skin health,
now it's time to start skin barrier care!
Skin barrier care. Is cream still
the only solution you use?
A healthy looking skin barrier care
starts with a toner.
A mild moisturizing
barrier toner
for a healthier looking
skin barrier
Probiotics* Ceramide Skin Softener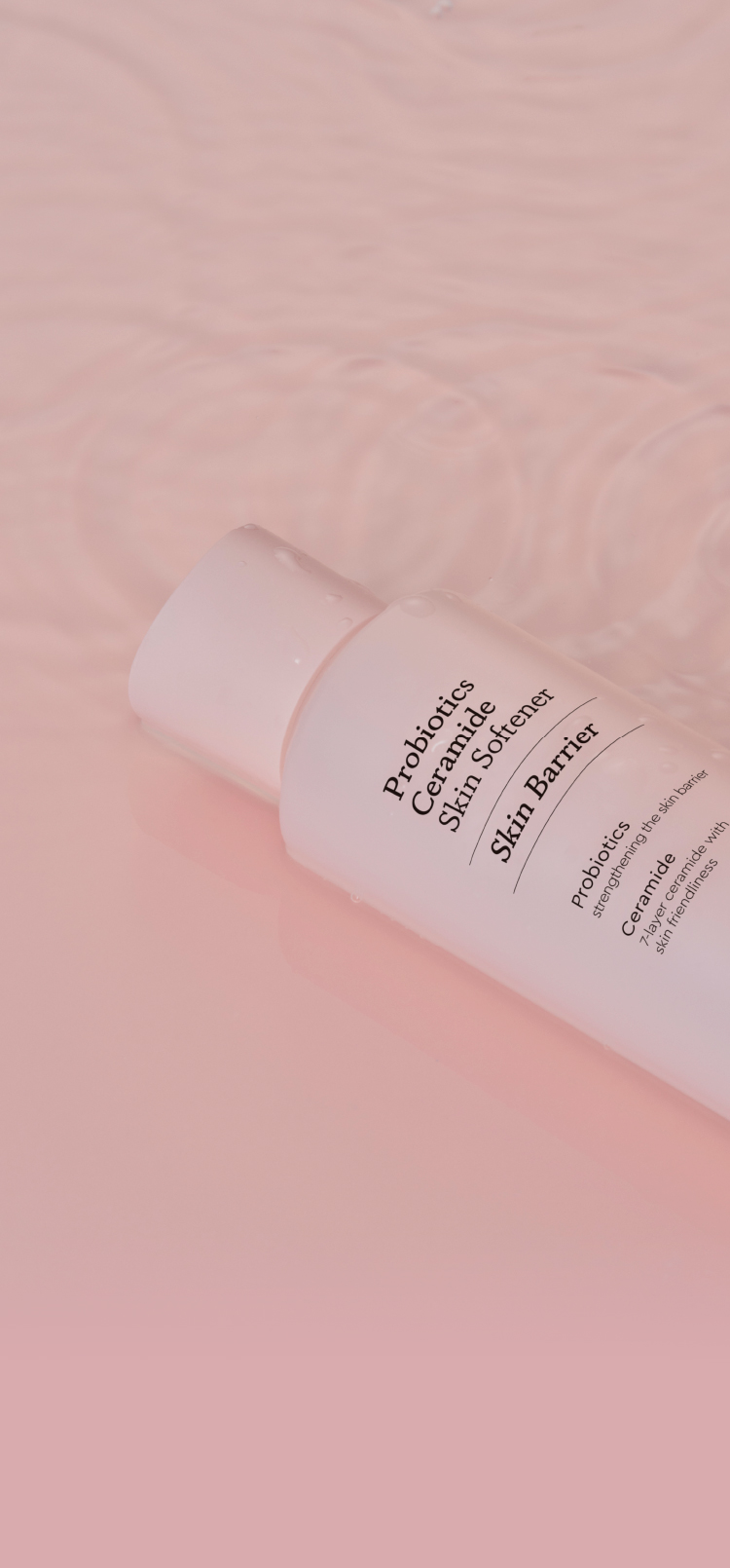 #Ceramide toner #Probiotics toner
#Mild toner #Moisturizing barrier toner
Moisturizing, Skin barrier strengthening
* Contains lactobacillus ferment lysate

two functions
of the skin barrier
Did you know that there are
two functions of the skin barrier
for the inside and the outside?
Unbalanced skin barrier functions
lead to dryness and sensitivity! Skin ecosystem barrier
(outermost layer of skin)
soothe skin against irritated skin
Keeping skin moist and healthy looking
Skin moisturizing barrier
(stratum corneum)
Protection against loss of moisture
and nutrients Keeping skin moist
Both functions of the skin barrier
must be managed to be an
AUTHENTIC barrier care solution
Discover the next-level
barrier solution
that provides a double care with
ceramide and probiotics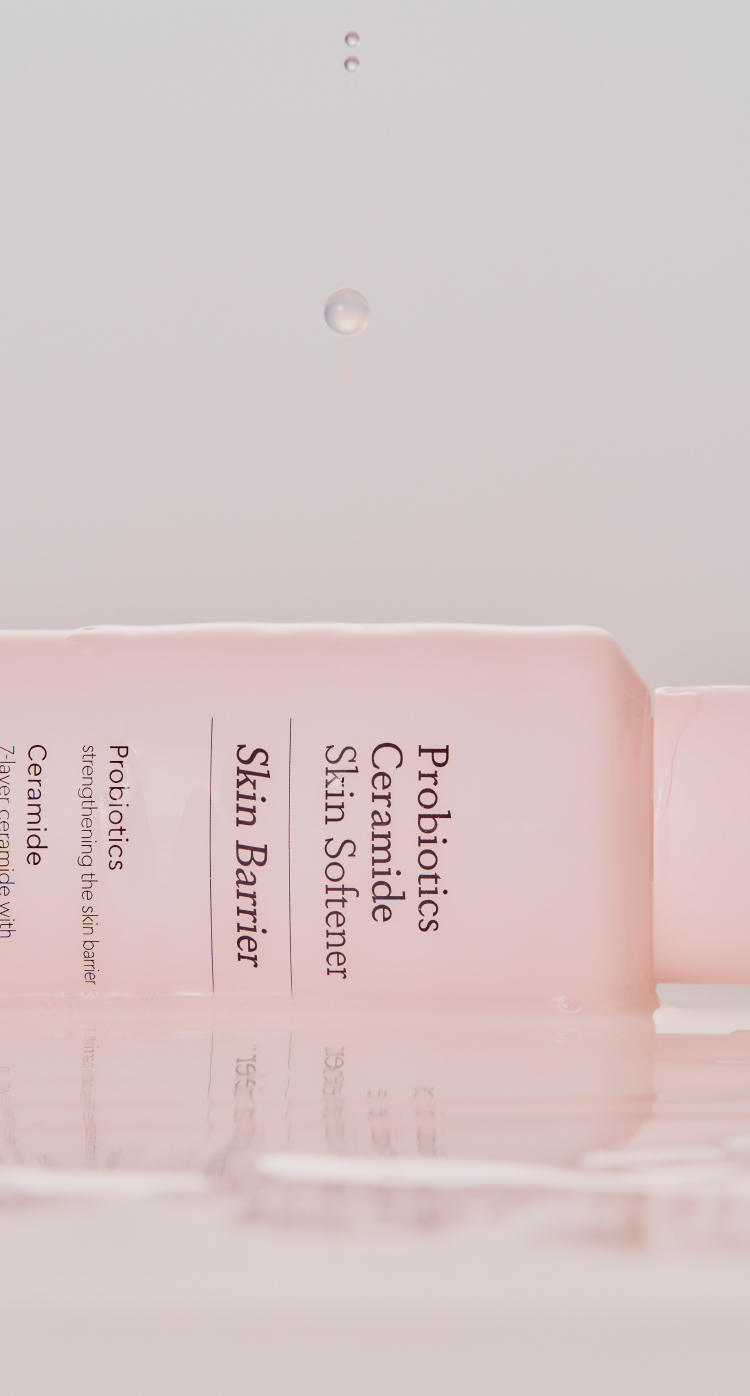 Probiotics X Ceramide
Awakening a healthy
looking barrier with
complete double barrier care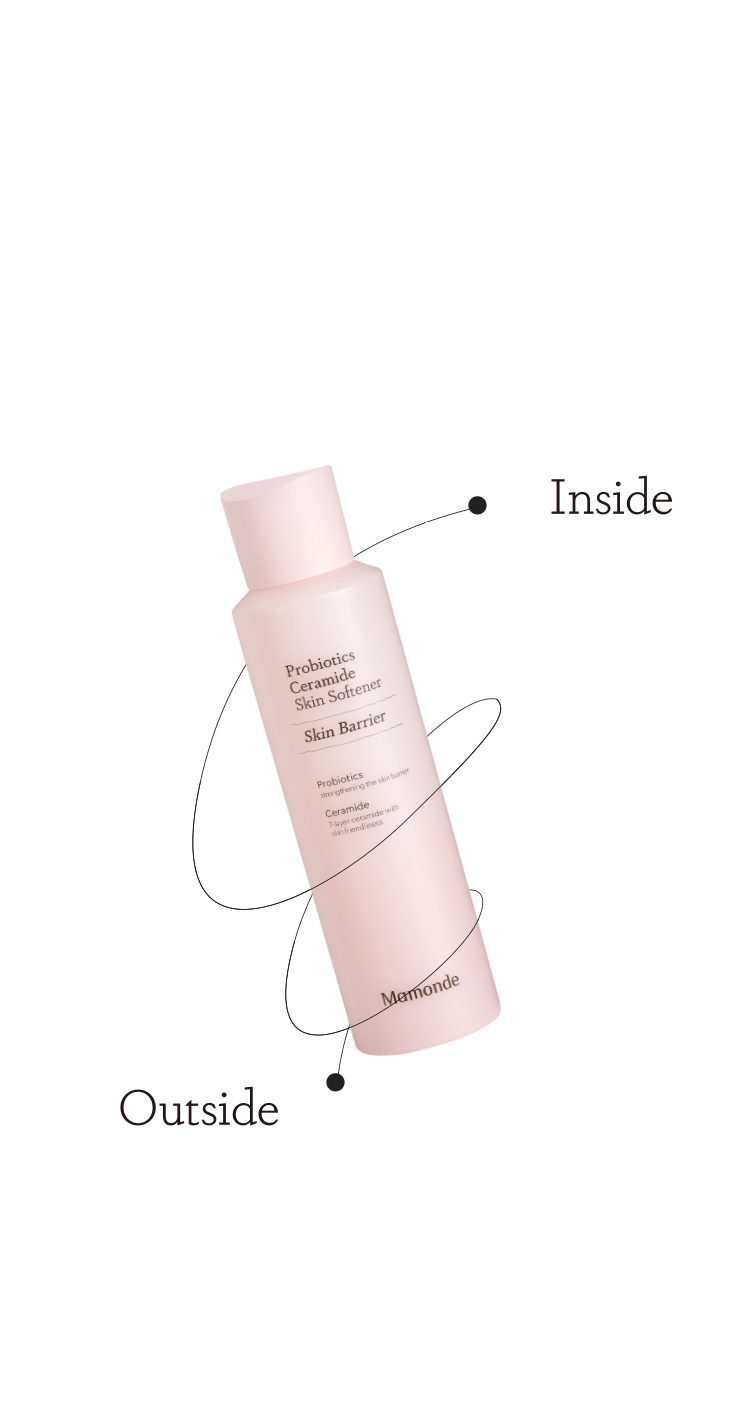 7-layer Ceramide
7 types of ceramides
for inner-skin moisturizing
barrier care
Floral Biotics™*
Improves the outer-skin ecosystem barrier
& the skin's natural energy
( *Pre-, pro- and post-biotics added with moisturizing
ingredient derived from hibiscus)
*Contains lactobacillus ferment lysate

IN&OUT
double barrier care
INSIDE Barrier Care
Build a moisturizing barrier
from the inside with 7 layers
of skin-friendly ceramide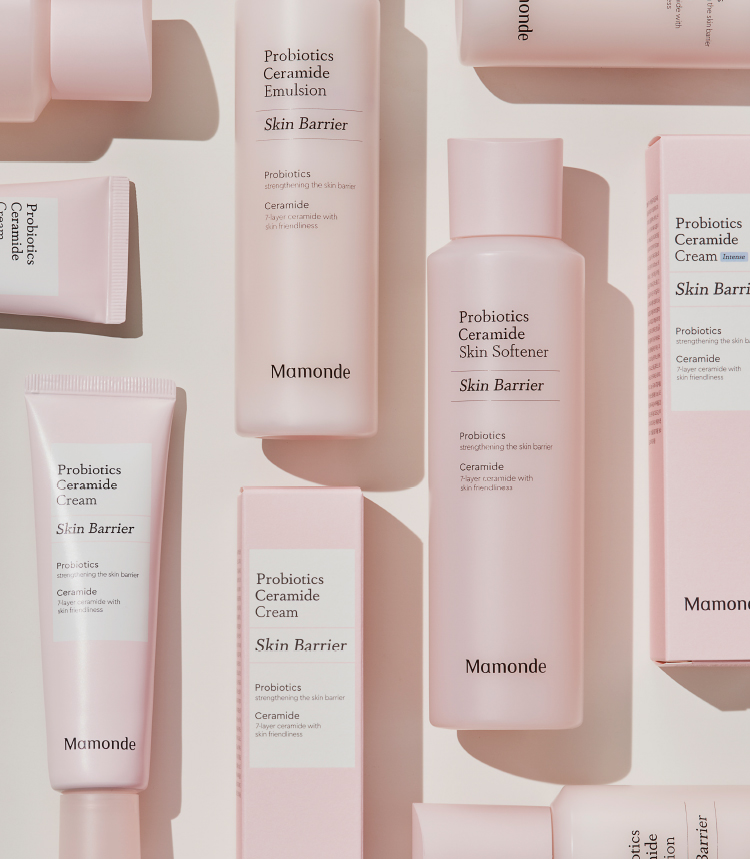 We used ceramides featuring
an enhanced affinity to skin, more similar to the ceramidefound in skin
Mamonde's 7-Layer Ceramide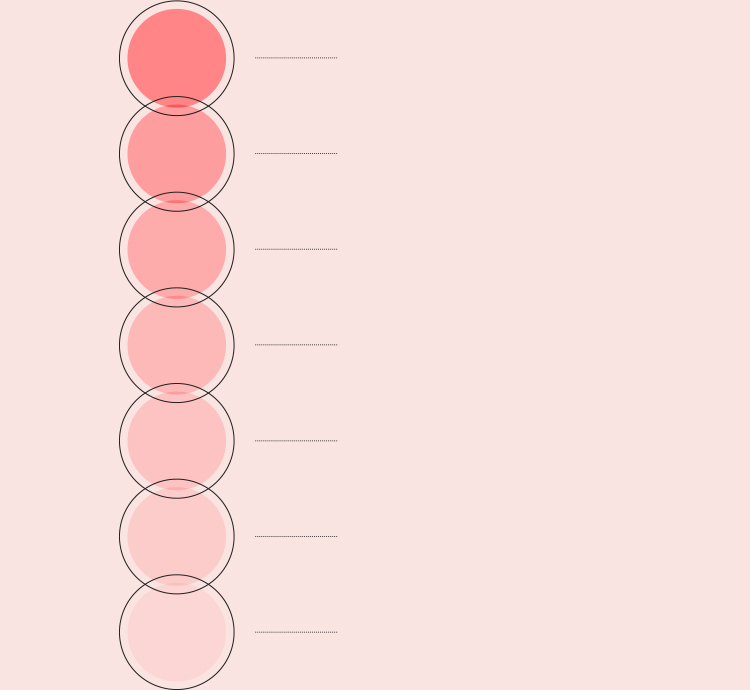 Hydro Ceramide

# Skin moisturizing &
moisture replenishment

Boosting Ceramide

# Skin barrier strengthening effect

Barrier Ceramide

# Improved skin protection

Moist Ceramide

# Skin moisturizing & skin barrier
reinforcement

Shield Ceramide

# Skin moisturizing & skin barrier
reinforcement

Core Ceramide

# Skin moisturizing & skin barrier
reinforcement

Radiance Ceramide

# Radiance barrier
OUTSIDE Barrier Care
Strengthen the skin's
natural energy through a skin
ecosystem barrier care with
Floral Biotics™* , Mamonde's
microbiome ingredient
A microbiome ingredient featuring
"moisturizing, barrier strengthening, and
moisture soothing" effects and
Mamonde's technology
Mamonde Floral Biotics™
here's what it does:
Three benefits for strong and healthy looking
barrier, made of pre-, pro- and post-biotics
Contains Mamonde's patent applied
ingredient (post-biotics)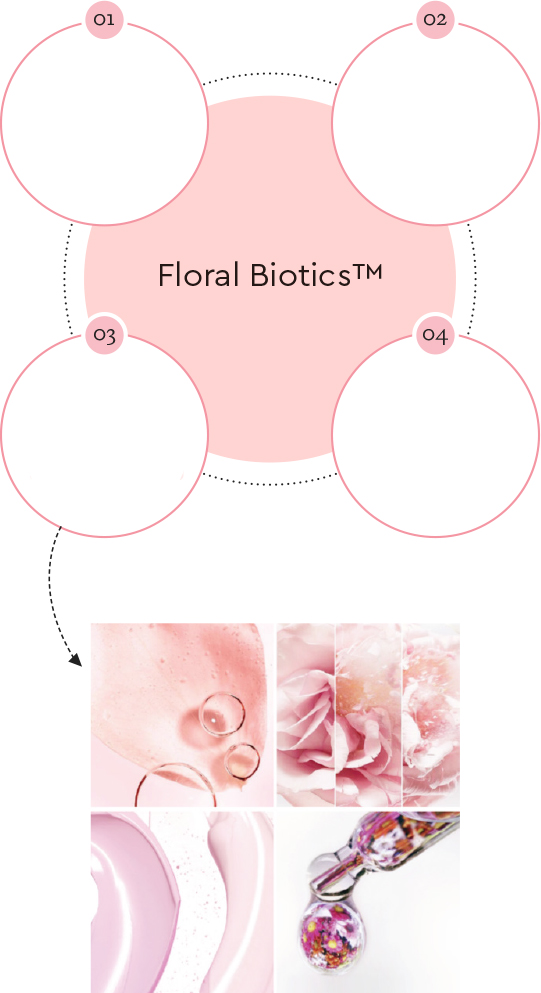 Prebiotics

(Moisturizing/
barrier
strengthening)

Prebiotics

(Moisturizing/
barrier strengthening
/soothing)

Prebiotics

(Moisturizing/
barrier strengthening
/soothing)

Moisturizing
ingredient
from hibiscus
Mamonde's patent applied flora derived
from flora Lactobacillus Ferment (Postbiotics)

Adding desired benefits
to a relaxing formula Reliable and mild toner
for the moisturizing barrier
Adding desired benefits to a relaxing
formula , so as to not irritate
a weakened skin barrier
Anti-wrinkle cosmetics
Hypoallergenic tested
Dermatologist tested
8-FREE
Free of animal
ingredients
From inner-skin moisturizing to skin
barrier care Intensive moisturizing
toner with a translucent
milky formula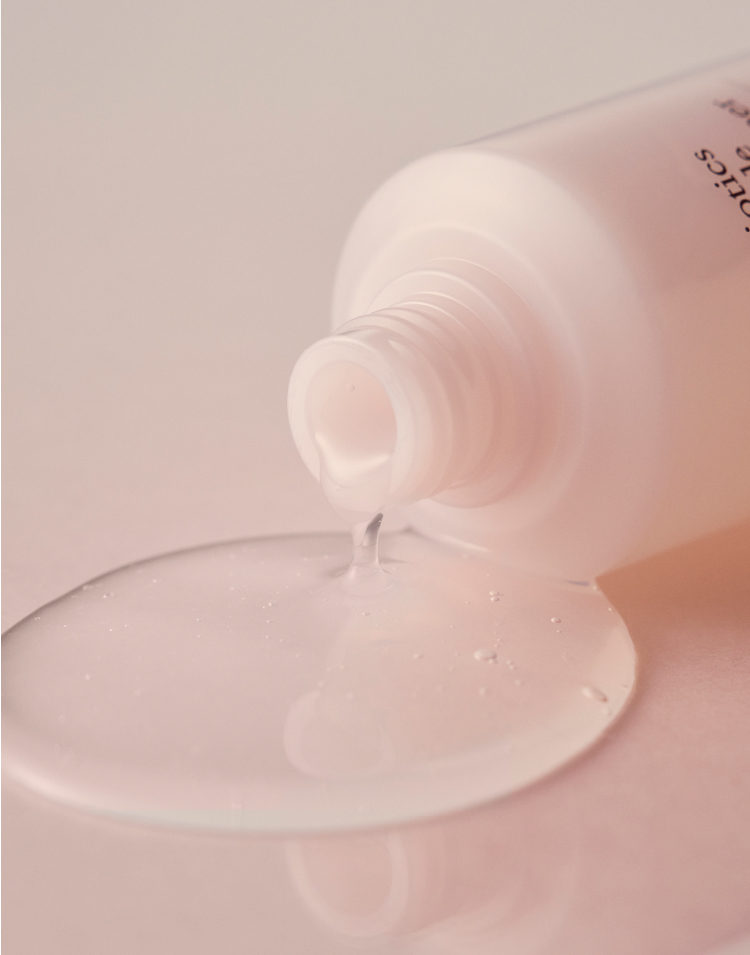 Fast skin absorption for deep hydration and
a stickiness-free, refreshing finish
Soft skin barrier felt at your fingertips
Moisturizing barrier care, start now with a toner
Multi-use toner
for desired purpose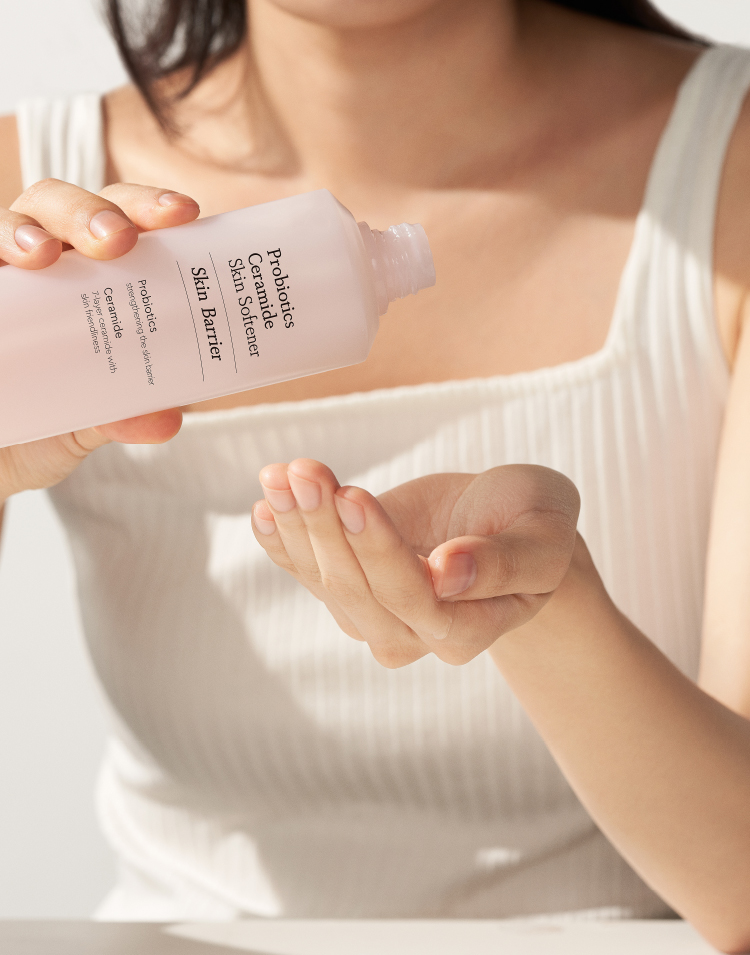 According to your mood and skin condition,
try different ways
whether it's absorption, wipe-off or a toner pack
At the toner step of your skincare routine in the
morning and the evening, take an appropriate amount
and gently spread along the texture of the facial skin
Tip 1.

Take out the formula onto your palm then let your skin
deeply absorb the product. #absorption toner

Tip 2.

Dampen a cotton pad with the formula and apply
along your skin texture. #wipe-off toner

Tip 3.

When your skin feels extra dry, soak some cotton pads
and use them as a facial mask. #toner pack
Those whose skin is irritated by wearing a face mask,
stress and/or other external factors

Those whose skin barrier is weakened

Those worried about inner-skin dryness and tightening

Those who want a deep moisturizing solution that
doesn't feel sticky

Those who prefer a mild product that's not irritating on
the skin

Those whose skin flakiness stands out after putting on
makeup